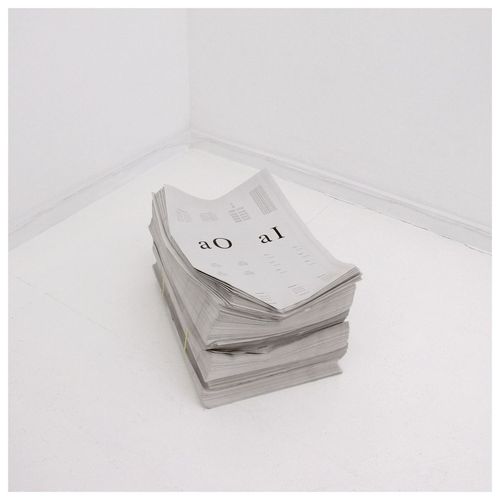 Turns out I love year-end list-making time! It inspired me to revisit some of my favorite albums of 2014. Meanwhile, the past month of reading other people's lists has tipped me off to tons of amazing music that I might otherwise have missed. I still have a lot that I haven't even listened to. It'll take at least another couple days to get through it all. What else am I missing?
I don't know if 2014 was a good year for music. But it was a great year to be a music listener. Most of these releases are at your fingertips on various websites where they can also be purchased in physical formats.
7 FAVORITES
The Shivvers – The Shivvers (Sing Sing Records) – originally recorded in 1980, never released!
Satanicpornocultshop – AtoZ!!!2 (nunulaxnulan)
Francis Bebey – Psychedelic Sanza 1982-1984 (Born Bad)
The Moles – Flashbacks and Dream Sequences: The Story of the Moles (Fire Records)
Container – Adhesive EP (Liberation Technologies)
Ben Vida – Slipping Control (Shelter Press)
Karol Conka – Batuk Freak (Mr Bongo)
17 MORE
Ed Schrader's Music Beat – Party Jail (Infinity Cat)
Ben Frost – A U R O R A (Mute / Bedroom Community)
The Soundcarriers – Entropicalia (Ghost Box)
Family Fodder – Monkey Banana Kitchen (Staubgold) (Reissue)
The Paradise Bangkok Molam International Band – 21st Century Molam (Studio Lam )
Kemialliset Ystävät – Alas Rattoisaa Virtaa (Dekorder)
Goat – Commune (Sub Pop)
V/A – Warfaring Strangers: Darkscortch Canticles (Numero Group)
Freddie Gibbs & Madlib – Piñata / Piñata Beats (Madlib Invazion)
Cabaret Voltaire – #7885 Electropunk to Technopop 1978-1985 (Mute)
Doug Gillard – Parade On (Nine Mile Records)
V/A – Serious Rockers: An Unblinking Ear Mixtape (Unblinking Ear) (*I'm biased!)
electric eels – Die Electric Eels (Superior Viaduct)
Pregnant – John Raw (Crash Symbols)
Traxman – Da Mind of Traxman 2 (Planet Mu)
OOIOO – Gamel (Thrill Jockey)
Sheer Mag 7" (Wilsuns RC)
ALSO ENJOYED
Timmy Vulgar – Genetic Armageddon (American Tapes)
Shabazz Palaces – Lese Majesty (Sub Pop)
Xray Pop – Ding Dong Songs (Cache Cache / Finders Keepers)
The Stevens – A History of Hygiene (Chapter Music)
Lorelle Meets The Obsolete – Chambers (Captcha)
Ex Hex – Rips (Merge)
Ought – More Than Any Other Day (Constellation)
Angel Olsen – Burn Your Fire For No Witness (Jagjaguwar)
Khun Narin – Khun Narin's Electric Phin Band (Innovative Leisure)
Angkanang Kunchai with Ubon-Pattana Band – Isan Lam Plearn (EM Records)
Machinedrum – Vapor City Archives (Ninja Tune)
Caetano Veloso – Abraçaço (Nonesuch)
Todd Terje – It's Album Time (Olsen Records)
The Paperhead – Africa Avenue (Trouble In Mind)
Life Without Buildings – Any Other City (What's Your Rupture)
The War On Drugs – Lost in the Dream (Secretly Canadian)
Caribou – Our Love (Merge)
Inga Copeland – Because I'm Worth It (self release)
Brian Eno & Karl Hyde – High Life (Warp)
Godflesh – Decline and Fall EP (Avalanche Recordings)
Chancha Via Circuito – Amansara (Wonderwheel Recordings)
Clark – Clark (Warp)
FKA twigs – LP1 (Young Turks)
Ariel Pink – Pom Pom (4AD)
Gipsy Rhumba: The Original Rhythm of Gipsy Rhumba in Spain 1965-74 (Soul Jazz)
Nevermores – Lock Your Doors… (Magnetic South)
Apache Dropout "Heavy Window" (Magnetic South)
Sleaford Mods – Divide and Exit (Harbinger Sound)
Ninos Du Brasil – Novos Mistérios (Hospital Productions)
V/A – Sawtuha: Nine Women From Egypt, Tunisia, Libya and a bonus song from Syria (Jakarta)
Quantic – Magnetica (Tru Thoughts)
Stas – Tales From Liasufam Desert (Babylon Records)
Beatelephant – Beatelephant (bandcamp)
V/A – Beyond Addis: Contemporary Jazz & Funk Inspired By Ethiopian Sounds from the 70's (Trikont)
X_X – X Sticky Fingers X (Smog Veil)
MISSED / NEED TO HEAR MORE
Swans – To Be Kind
Aphex Twin – Syro
Total Control – Typical System
Andy Stott – Faith In Strangers
Mordecai – Neil's Generator
Ngozi Family – Day of Judgement
Burnt Skull – Sewer Birth
Hank Wood and the Hammerheads – Stay Home!!